Inateck 9 in 1 USB-C Hub review
REVIEW – Just recently, I acquired access to a MacBook and I immediately saw the need to have a USB-C hub to be able to use all of my desired accessories and peripherals. This was especially true since the only ports on my MacBook Pro are 2 USB-C ports. A couple of weeks ago, I got the …
Inateck 9 in 1 USB-C Hub review Read More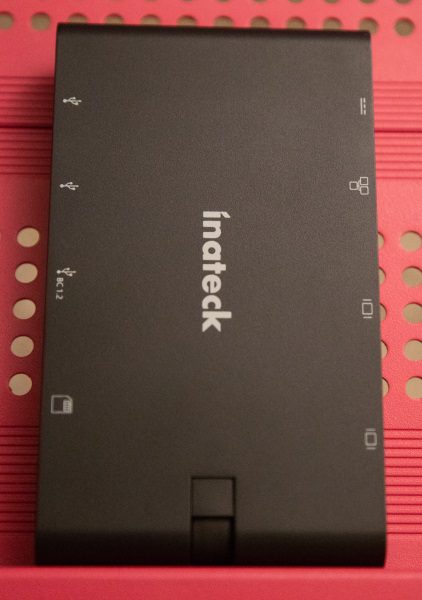 REVIEW – Just recently, I acquired access to a MacBook and I immediately saw the need to have a USB-C hub to be able to use all of my desired accessories and peripherals. This was especially true since the only ports on my MacBook Pro are 2 USB-C ports. A couple of weeks ago, I got the chance to test and review the Inateck 9 in 1 USB-C Hub. Here is a review of my experience.
What is it?
The Inateck 9 in 1 USB-C Hub is a compact and lightweight hub that allows you to use one USB-C port on your MacBook/Laptop and expand it to accommodate just about every commonly used accessory/peripheral.
What's in the box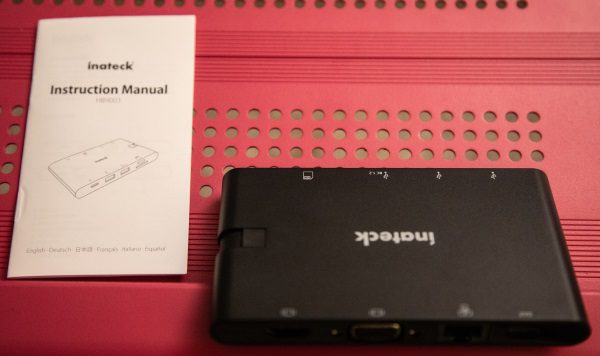 1 x Inateck 9 in 1 USB-C Hub
1 x Instruction manual
Design and features
On the side of the hub shown below, from left to right, there is a USB Type C port, 2 USB 3.0 ports, a lower SD card reader and an upper micro SD card reader.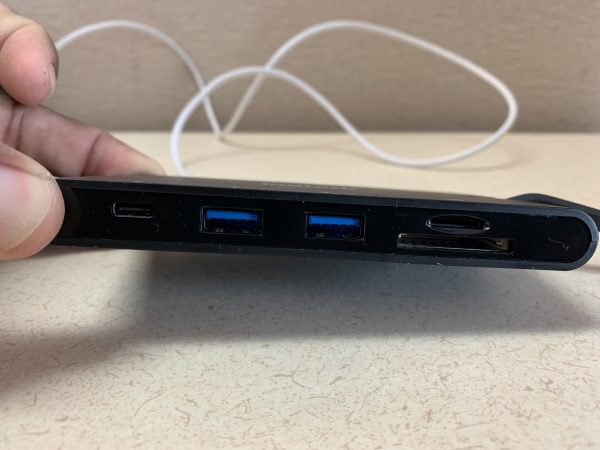 On the opposite side as shown below, from left to right there is a HDMI port, a VGA port, a gigabit ethernet port, and a 100W PD USB type C charging port.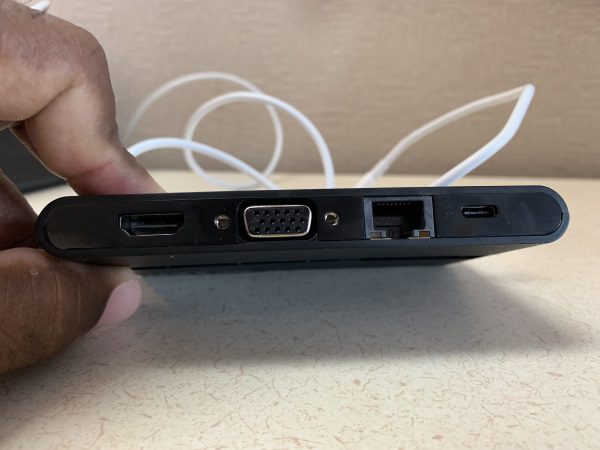 At the bottom of the hub, there is a built-in USB-C cable that can be tucked away until you are ready to use it.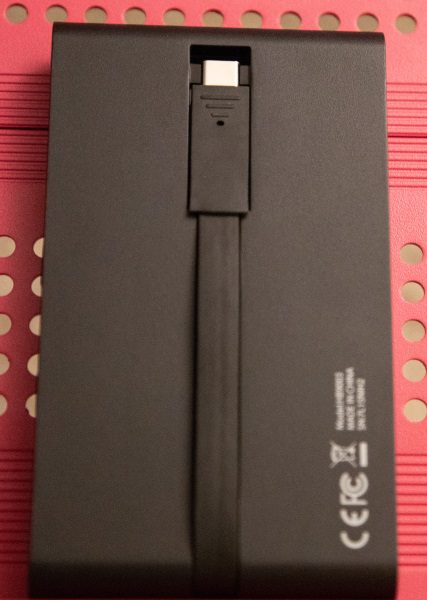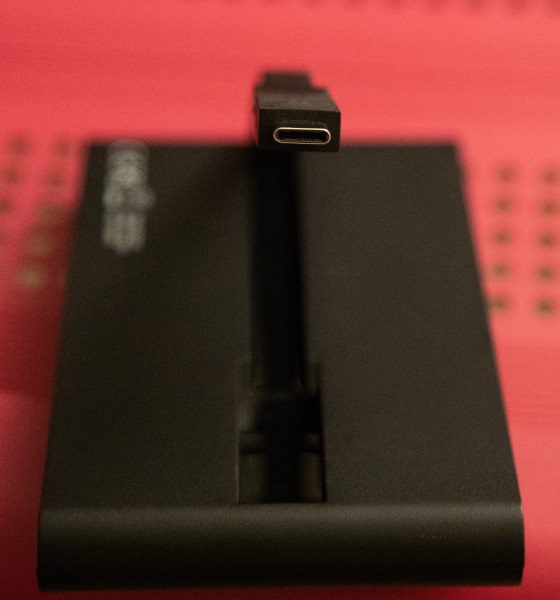 Performance
This hub performed well in every way. In the first picture below, I am showing the MacBook Pro USB-C AC power adapter connected to the pass-through USB-C power port on the hub. This allows you to charge/power the MacBook Pro while using the hub and also provides the USB charging port with power.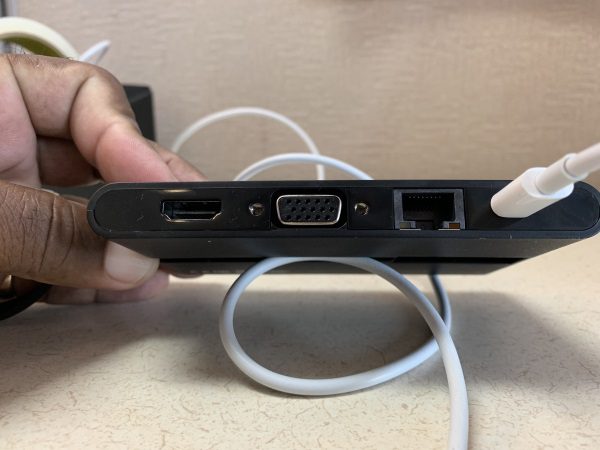 Below, I have a USB-C male to USB A female adapter connected to the USB-C data port on the hub. I then have a USB 2.4Ghz wireless dongle connected to the adapter that allows me to use my wireless mouse.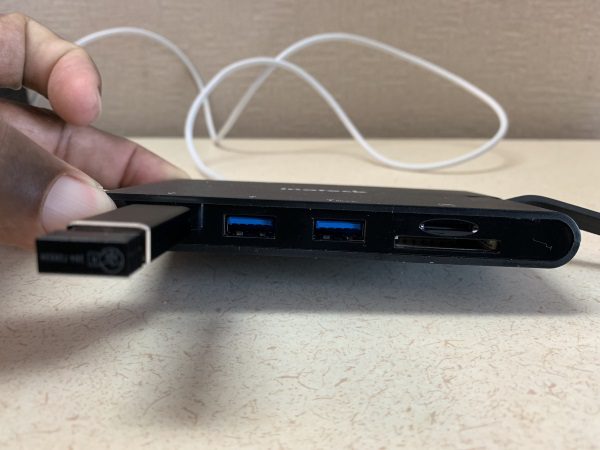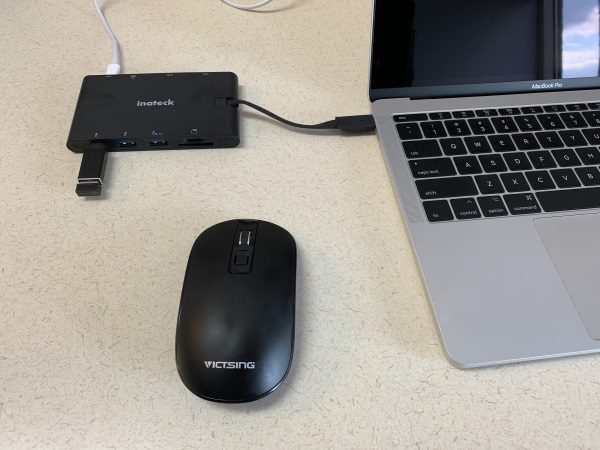 Here I have both my MacBook Pro and a monitor connected to the hub. I am mirroring the screen. The monitor is connected to the hub via the HDMI connection, and I also successfully connected the monitor via the VGA connection.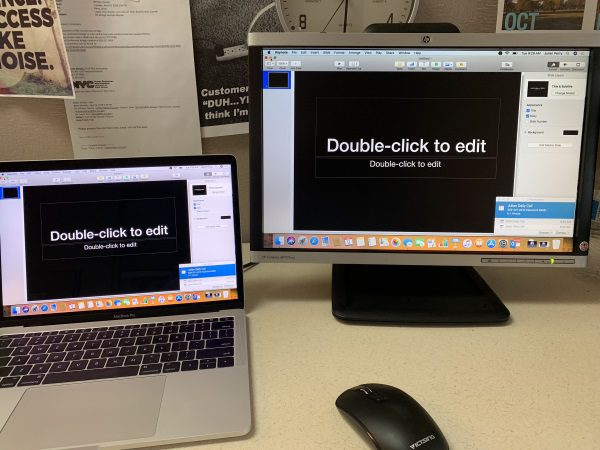 The hub performed without any access or operational issues for everything I tested. The only thing that I notice is that after each period of use, approximately 8 hours, the body of the hub is quite warm. I am not sure how the heat will affect the performance of the hub over time and after repetitive and continuous use.
What I like
The size, weight, and portability
The number of accessories/peripherals it accommodates
The built-in USB-C cable
The pass-through power port
The powered charging port
What can be improved
Better heat dissipation so that the heat does not shorten the life of the device
Final thoughts
I really like the 9 in 1 USB-C hub. It allows me to add just about every accessory that I need to my MacBook, and to use just about every data drive that I commonly use whether directly or via a USB card reader. While I have not tried it as yet, I feel confident that I can use this hub on my PC laptop via a USB-C female to USB A male adapter. This simple but effective device gets two thumbs from me!!
Price: $59.99
Where to buy: Amazon or Inateck Website
Source: The sample for this review was provided by Inateck.
Filed in categories: Reviews
Tagged: Type-C USB, USB hub
Inateck 9 in 1 USB-C Hub review originally appeared on The Gadgeteer on October 20, 2018 at 9:30 am.
Note: If you are subscribed to this feed through FeedBurner, please switch to our native feed URL http://the-gadgeteer.com/feed/ in order to ensure continuous delivery.
Olivia Wilde
Megan Fox